Chemrade looks back on an inspiring NVvA Symposium 2022
On 12 and 13 April, the 30th NVvA Symposium took place! After a long period of lockdowns, we could finally meet each other again in real life and share knowledge. Chemrade Software – sponsor of the symposium – contributed with a number of inspiring sessions. Time to quickly look back at the event!
Besides a brand-new stand, our occupational hygienists hosted a couple of knowledge-intensive and interactive workshops. Joost van Rooij – chair of the NVvA and Chief Science Officer at Chemrade Software – kicked off with a presentation about the scientific validity of the ECETOC-Tra model. Together with his peers, he performed a systematic evaluation into estimated inhalatory exposure scenarios in comparison to performed measurements. Conclusion: for most of the scenarios the ECETOC-Tra tool offers sufficient estimation, which corresponds to the intended use of the model.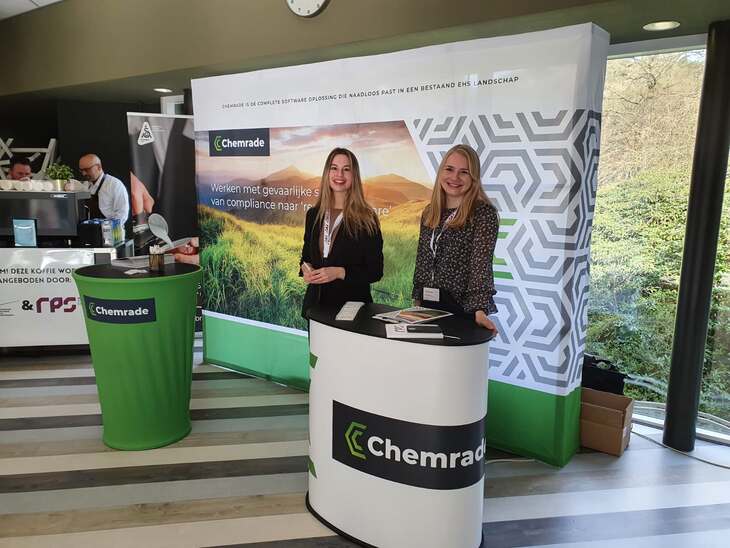 Furthermore, occupational hygienist and CEO of Chemrade Software – Daan Huizer – presented a lecture on several risk models and the application of them to assess hazardous substances. The main question: are these risk assessment models good enough? The answer on this question depends on the different standards you set. Each model has its own application area, and the reliability varies among the models. More important to ask yourself is: Is the best and most accurate estimation the greatest goal? Because with first tier models you can also perform an initial assessment which could lead to an OSH and REACH 'proof' approach. We ended with the benefits and essence of automatization of chemical risk assessment. Chemrade's platform was featured briefly as the best of breed for successful implementation of the process. In this context, an in-house developed methodology was shown for dealing with situations where (initial) estimates indicate increased risks and additional steps are required.
Overall, we look back at two successful and inspiring days filled with knowledge, discussions, networking, and fun!
Do you want to learn more about Chemrade? Contact us for a demo, we are happy to help you!